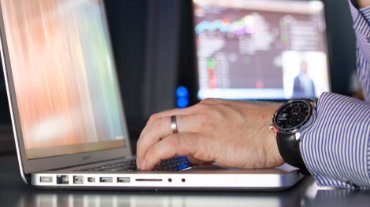 Our customers have expressed interest in having the ability to enter payroll data, to make changes online and to instantly access comprehensive details of their payroll. We listened. Approximately a year ago, we introduced these features to our platform, and we're happy to report that the majority of our clients are enjoying the enhanced functionality of this real-time processing technology through our myPay Solutions web payroll application, myPay Solutions Direct.
The web application offers a new method of entering payroll online. This includes the ability for you to make changes to accounts, employees and accounting information at any time. Once entered, your payroll automatically calculates and you can see the impact, including the total amount of money needed to cover payroll and payroll taxes. 
What are the benefits? Real-time processing with myPay Solutions Direct provides you with faster access to information and more control over your account. 
Here's a list of the enhanced functionality our clients are raving about:
No wait times for keying payroll data
Payroll information is entered in real-time and calculates automatically
New employee information can be entered without waiting for your specialist to upload the time sheet
Changes can be made to a variety of employee information, ranging from direct deposit information to updating federal/state filing status and number of dependents
Payroll deductions/pay items can be updated in real time
Checks can be calculated on demand
Prior to submitting the payroll, you can view a Preprocessing Summary Report that takes place of our Unprinted Checks Report
Accounting information such as Chart of Accounts can be maintained and updated
Access on-demand reports
myPay Solutions Direct is already being used by 70% of our clients. If you are not in that majority, let's talk. Your designated payroll specialist can show you what the additional speed and functionality myPay Solutions Direct can offer you.