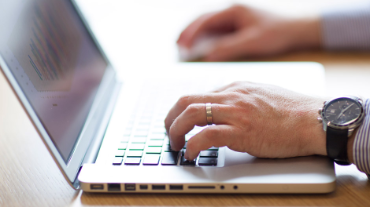 To help you with your reporting needs — which can be varied and detailed — myPay Solutions is pleased to showcase two reports that are available to all myPay Solutions clients: the Employee Change History and Cash Requirements reports.
As part of our standard package of payroll reports, the Employee Change History report displays a fully detailed listing of any changes made to individual employees from the time of your last payroll run to the current payroll run. No action on your part is necessary, as this report is uploaded to your portal with every payroll. This report can also be printed from your myPay Solutions Direct application for any custom date range you wish on demand.
Want a detailed list of what changes occurred with your employees from the time of your last payroll to now? The Employee Change History report displays this information in a detailed, employee-by-employee format.
New to the standard package of reports, the improved Cash Requirements report displays the cash required for your payroll run, as well as the total amount myPay Solutions will actually debit from your account for each payroll. This report will provide more specific information to make sure you're prepared and aware of any and all transactions impacting your payroll bank account, so myPay Solutions can successfully complete your payroll. 
It's part of our mission to continually improve your myPay Solutions payroll experience by providing quality service that maximizes your own effectiveness as a business owner. These payroll reports can help streamline your workflow by giving you the information you need — when you need it.
For security and confidentiality, we recommend these reports only be shared internally. This will limit the exposure of employees' and company personal information.
As always, please let your Payroll Specialist know if you have any questions or concerns.