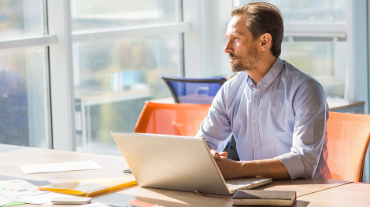 When you're looking to grow your business, it's important to differentiate yourself.
Why should potential new clients choose your company over all the others that provide similar services? Many businesses answer this question by focusing on one or a few vertical markets — certain types of customers that they enjoy handling and handle well.
As an example, let's say you have a dry cleaning business. What other services could you offer that would seal the deal with your primary client base? Maybe tailoring, or shoe repair?
Chances are there's already a vertical market you're especially good at. Think about your customer base. Do your customers tend to fall into a certain business area or type?
What do you do differently that has attracted so many of that type of customer? How would a person in that business benefit from using you as their accountant? It often helps to make a list of the benefits you offer — in your customers' terms.
Once you have this list, you've pinpointed your vertical market. The next step is to target that market with your new business efforts. Whether by direct mail, email, phone or ongoing networking, design a communication specifically for this business type, reflecting your expertise in their business.
You may want to come up with a sample package of services based specifically on that type of customer base, demonstrating the benefits that doing business with you can provide. This can be a powerful tool during an initial consultation, helping you demonstrate right away that you offer more value than a generalist.
The better you can show how your offering is unique, the better the chance you have of winning over that client. And don't forget, you can "specialize" in more than one type of business.
By attracting more clients that are similar, you'll increase your expertise with that customer base, making you even more valuable. Doing similar types of work may also make you more profitable. And because you almost certainly targeted customers that you like to work with, your work should be more fun as well.
More clients, generating more revenue, with increased efficiency and more fun.
Now that's a strategy you can grow with.