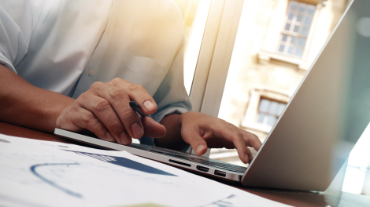 There might be times when you want to vary some of the standard formats on your payroll reports. For example, you can customize payroll reports to narrow them down by date range, region, department, employee, and more.
Here are step-by-step instructions  to create a customized report through myPay Solutions Direct. 
1. Click the Print Reports option in the Payroll Actions navigation pane.
2. Select the applicable report from the list of available reports by double-clicking the report, or by highlighting it and clicking the Select button.
3. Select the appropriate report options:
Date: Click the drop-down arrow to see the full list of date options to include in your report. You can select one of the pre-set date options, such as current month, current quarter or current year. Or use the Range option to enter your own custom dates.
Regions to include/sections to include: You can select or deselect any of the options in these sections to include or exclude them from the report.
Filtering and sorting: Use the filtering options to narrow down the information that is included in the report by selecting specific departments, specific employees, etc. You can also use the sorting options to define the order in which the information will be presented on the report.
4. To view the reports before printing them, click the Preview Selected button.
5. Click the Print Selected button when you are ready to print the report. The print dialog will include an Output to File checkbox. Use this option to create a PDF or a Microsoft Excel file.
6. Important: When using the Output to File option, you must choose a destination for the saved report. We recommend using a file location on the V:\ drive. The myPay Solutions payroll system uses the V:\ file location to identify and connect with your local C:\ drive.
7. Click OK to print the report.
For more information on printing and creating custom reports, please call your payroll specialist.