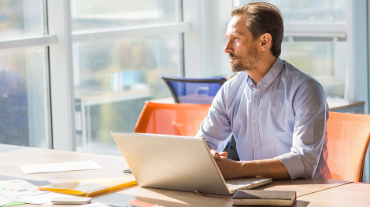 Most small business owners are truly experts in their field or craft. But outside of a few friends and customers, surprisingly few business owners actively work to build their status with others as a thought leader  — which can be a key competitive advantage and a strong business asset. Here are five tips to help build your reputation as an expert in your field.
1. Share Your Knowledge
How is anybody going to know that you are an expert, if you don't share your expertise? The first step is to look for ways to share your knowledge. This might include publishing articles or FAQs on your website or publishing a newsletter. It could include writing a blog, giving presentations, or being interviewed. And if you are searching for topics to share information about, start with common questions your customers ask.
2. Be Active on Social Media
This could start out as simply commenting knowledgably on articles and blogs, but you can build your reputation much more quickly with your own blog. Or simply tweet or post on Facebook when you release another article on your website. Sharing articles or other blogs of interest could help position you as an expert, and help you gain a following. Early on, you may worry that your network is too small to invest in. But your goal isn't to reach your network, your goal is to reach your network's network.
3. Take a Leadership Role in an Organization or Association
Becoming active and taking on a leadership position in a business, civic, or trade organization gives you instant credibility. Even if people aren't familiar with you, they may be familiar with the organization. Participation in these organizations helps ensure you are keeping abreast of key issues and ideas.
4. Look for Public Speaking Opportunities
Public speaking increases your confidence, exposes you to a wider audience, and builds your reputation. Look for speaking opportunities at civic organizations, trade associations, and public hearings. This can also include hosting or being a guest on a webinar.
5. Reach Out to the Media
Let the local newspaper, radio stations, and television stations know that your expertise is available. You can focus on the content that you want to share and how that information could be beneficial to their readers/listeners. Make sure to clarify that you are not seeking to promote your business, instead explain that you have valuable information that you want to share. To increase your chance of success, you will want to do more than make your expertise available to them. You may want to prepare some sample work, such as an article. Make it as easy as possible for the media to work with you.
Like most things in marketing and brand building, think frequency and consistency. Each additional action you take builds upon others. It's a powerful competitive advantage that you can achieve, with just a bit of planning, and a small amount of consistent action.