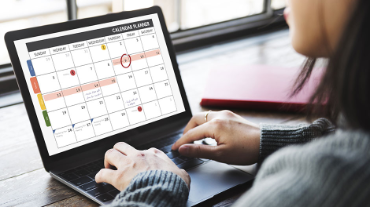 Fall is right around the corner and we're wrapping up another quarter-end. As you gear up to enjoy the season, please take some time to review the following quarter-end reminders.
Submit All Second Quarter Payroll Information by September 26
To avoid tax penalties and re-processing fees, please submit all third-quarter data to your payroll specialist by September 26, 2017.
Ensure that Your Data is Complete
Please contact your payroll specialist or review the Payroll Memorandum included in your most recent set of payroll reports for a list of missing information. Missing tax items will be shown in red.
State Unemployment Insurance (SUI) Tax Rate
Each calendar year, your business will be assigned a unique, state-specific SUI tax rate based on your employment history. This rate is essential for accurate calculations of your tax returns, and incorrect rates may result in potential penalties for underpayment. Because states don't always provide us with updated SUI rate information, we rely on you to forward any tax rate information that you've received, so we can close the gap on using outdated rates. If you've not already done so, please send your 2017 SUI tax rate to your payroll specialist. Your state will be sending 2018 rates to you soon. Please send those to your payroll specialist.
Please review the final page of your most recent Employee Earnings Report for missing or invalid W-2 information. If the report shows invalid, missing or duplicate Social Security number issues, please contact your payroll specialist to provide the missing data or process corrections.
Ensure that Your Data Is Up to Date
Please notify your payroll specialist of any changes or updates to the following:
Company data: Address, contact information or bank account information.
Employee data: Personal data, payroll data or W-4 updates. You should have a Federal Form W-4 Employee's Withholding Allowance Certificate on file for each employee, along with any applicable state and local withholding tax forms. A W-4 remains in effect until the employee gives you a new one. You are not required to obtain new W-4s for your employees each year, unless they claim exemption from income tax withholding. Exempt W-4s expire on February 15 of the following year. If employees claim exemption, they must give you a new W-4 each year. If the employee does not provide a new W-4, withhold at Single/0, or use the last W-4 on file with filing status and allowances.
2017 Holiday Schedule
As noted below, myPay Solutions will be closed on certain days. These days are considered non-processing days and have been accounted for in all Payroll Data Submission Deadline Schedules.
Please review your company's personalized schedule carefully to ensure that you're able to meet time submission deadlines.
Monday, September 4, 2017 (Labor Day) — National bank holiday — myPay Solutions is closed
Monday, October 9, 2017 (Columbus Day) — National bank holiday — myPay Solutions is open
Thursday, November 23, 2017 (Thanksgiving) — National bank holiday — myPay Solutions is closed
Friday, November 24, 2017 (Day After Thanksgiving) — myPay Solutions is closed
Monday, December 25, 2017 (Christmas Day) — National bank holiday — myPay Solutions is closed
Monday, January 1, 2018 (New Year's Day) — National bank holiday — myPay Solutions is closed
Questions?
For more information, contact your payroll specialist.